10 Best Moodle Themes
If you want to sell courses online or if you want to make your school/college/university website with Moodle, you need a theme that makes your student/visitor browse/use courses easily. You'll get Top 10 Best Moodle Themes 2023 Reviews here.
Moodle LMS has the option to make a site quickly and easily. In this article, we will share the 10 best Moodle Themes, as we know the best themes for the LMS website.
10 Best Moodle Themes on ThemeForest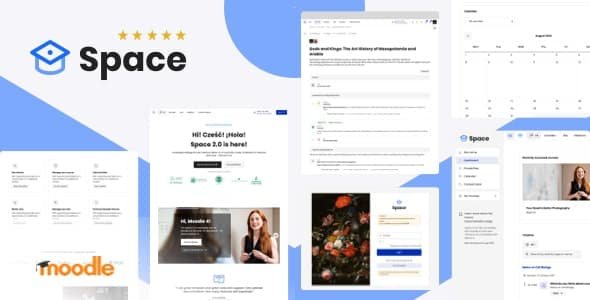 Space Moodle theme is a premium choice, it comes with nice UI, so your visitor can easily use your site with this theme. Space Moodle theme some features:
23 in-build blocks
Compatible with Moodle 3.9, 3.10, 3.11, 4.0, 4.1, 4.2
Multi-language Support
Google & Self-hosted Font Support
Support for RTL languages
Edumy Moodle theme is exclusive for Live Customizer(the first ever in Moodle) to build dynamic and content rich pages in minutes. You can make modern and engaging online learning site with Edumy, here are some features:
Live Customizer
Drag & Drop Form Builder
17 Home Pages
6 Courses Page Designs
Custom Star Ratings/Reviews
Build with Moodle 3.7, 3.8, 3.9, 3.10, 3.11, & 4.0+
New Learning theme can be for your Moodle site is properly designed and coded, and students with disabilities can use it. You can build easier and faster the front page and static pages, for example: About, Contact, etc. You can use many predefined layouts and edit it to make your own unique design without effort. Here are some features:
Live Page Builder
7+ Home Demos
Course full screen/focus mode
Course rating
Multi-language site
Mega menu (NEW)
Footer builder
Are you searching for fancy Moodle designs? The Lambda Moodle theme is new and works well on all screens. Your students can learn using any gadget they have.
This special Moodle design has many different looks for content blocks and a sidebar that can fold. Students can easily look through courses or see what parts are there to use.
Responsive Design
Fully Customizable
Unlimited Colors
Font Awesome vector icons
Frontpage slideshow
Talking about great Moodle examples, we can't forget Alpha. It's one of the top simple Moodle templates. Alpha has a nicely arranged starting page with a grid layout.
Students can quickly find courses grouped by types. This design works well on all devices and includes:
Compatible with Moodle 3.8, 3.9, 3.10, 3.11, 4.0, 4.1, 4.2 and later
Support for custom plugins
Custom login page
Go ahead and check out the demo of Alpha Moodle LMS. You can test out all these awesome features there.
With Universe moodle theme you can enhance the branding of your courses by incorporating custom colors, logos, and much more. It has dark mode option with proper responsive design.
0+ fully customizable front page blocks
Simple Front Page Builder
Fully Responsive Design
In-build Dark Mode
2-course layouts (Standard, Tabs)
The Monocolor Moodle theme offers more than 30 blocks for the front page that you can change however you want. You can pick from 2 different ways to set up courses and even use the built-in dark mode.
This Moodle theme for online learning adjusts to different screens, supports multiple languages, and is simple to change to your liking. You can also choose from many different colors without any limits.
Edmo is a clean, modern responsive Moodle theme purposely designed and built for Online Training and Education niche websites! It suits Online Course Providers, Online Training, Learning Management, Educational Institutes, Distance Learning, Modern Schooling, Yoga Training, Health Coaching, Gym Coaching, Kindergarten, Education LMS, etc. The site owner or admin can easily set up and run with the Edmo theme. Easily accessible online documentation can assist with all essential needs.
32+ Custom Blocks Available
12 Home Page Demos
Unlimited Colors
Multi-language Support
Klassroom is a top-notch Moodle theme that works well on different devices. You'll discover various ready-to-use color styles that can help you begin designing. This theme also includes features like:
Moodle Version Compatible 2.7, 2.8, 2.9, 3.0, 3.1, 3.2, 3.3, 3.4, 3.5, 3.6, 3.7, 3.8, 3.9, 3.10, 3.11, 4.0, 4.1 and 4.2+
Support for all custom plugins
multi-language support
Best Customization options
If you want simple and user-friendly Moodle templates, give Academic a try. It provides many ways to customize. This high-quality Moodle theme offers:
a design that works on all screens
two login page options
a nicely arranged starting page
easy setup with ready-made content
places to showcase photos
Explore the demo of Moodle LMS to see how Academic functions.
10 Moodle Themes for Free
Are you trying to save money? Or do you want to test Moodle before starting your course? Choosing a free Moodle theme is a good way to start.
These free Moodle themes are responsive and come with essential features. This allows you to explore the platform. However, they might not offer many ways to customize.
Here are some of the finest free Moodle themes available from the Moodle plugin repository.
This free Moodle LMS theme works well on all kinds of devices and works smoothly with popular web browsers. It's simple to adjust to your liking. The theme includes a slider on the homepage, links to your social media profiles, and a homepage layout that displays different course categories.
The Eguru Moodle LMS free theme features a modern and adaptable design. It offers various color options and settings that you can adjust as per your preferences. If you can't afford a premium Moodle theme, give Eguru a try.
This free Moodle theme is designed to work well on different devices and supports multiple languages. You'll discover a personalized information block in the footer. You can adjust it according to your needs and even add links to your social media profiles.
This no-cost Moodle theme provides you with five ready-to-use color options. You can benefit from its design that adapts to various devices and a wide horizontal menu for organizing your courses. It's also built to support multiple languages.
The Roshni Lite Moodle Theme is completely responsive, which means it works well on all sorts of devices. It gives you the ability to customize different parts of the front page. You can even showcase popular courses right on the starting page.
Additionally, the theme provides a personalized login page.
Find the Best Moodle Themes on ThemeForest
If you're all set to begin your online course website using Moodle, make sure to visit ThemeForest. ThemeForest is the top spot to find the finest Moodle themes available online.
There, you'll find many up-to-date Moodle themes equipped with strong features! These will simplify the process of starting, selling, and providing your online course.
You can purchase each Moodle theme for your learning management system separately. Customize it as per your requirements and make sure your students have a fantastic user experience!
What is Moodle?
Moodle (acronym for Modular Object-Oriented Dynamic Learning Environment) is a popular open-source learning management system (LMS) or e-learning platform. It was designed to help educators create and manage online courses, deliver educational content, interact with students, and facilitate various aspects of online learning.
Moodle provides a wide range of features for both instructors and learners, including:
Course Management: Instructors can organize course content, assignments, quizzes, and other learning materials within a structured online environment.
Collaboration Tools: Moodle offers tools like forums, wikis, and chat rooms to promote communication and collaboration among students and instructors.
Assessment and Grading: Instructors can create quizzes, assignments, and assessments, and Moodle provides tools to automatically grade certain types of questions.
Resource Sharing: Teachers can upload various types of resources, such as documents, presentations, videos, and links, making them easily accessible to students.
Customization: Moodle can be customized to match the branding and specific needs of an educational institution.
User Management: Instructors can manage enrollment, user roles, and access permissions for different participants in the courses.
Tracking and Reporting: Moodle offers features to track student progress, participation, and performance, allowing instructors to generate reports and analyze data.
Open Source and Community: Being open-source software, Moodle is freely available for anyone to use, modify, and distribute. Its large community of developers and users contributes to its ongoing development, improvement, and availability of plugins and extensions.
10 Best Moodle Themes
Moodle is used by a wide range of educational institutions, including schools, universities, corporations, and non-profit organizations, for both formal education and training purposes. Its flexibility, scalability, and extensive feature set have contributed to its widespread adoption in the field of online learning.
If you have any web development-related tasks, consider hiring us. We offer top-notch services in this field, accompanied by competitive pricing.
For more information visit our services:
Appreciate Your Time Spent Exploring This Post!